ned-kelly-bike-racks
Australian Bollards' NK-2000 – The Ned Kelly Bike Rack – is a secure and space-efficient bicycle rack. It allows you to mount onto both solid or hollow wall surfaces as well as metal railings and barriers. Its durable and vertical fixtures make the most of your available space indoors, outdoors and for all kinds of bikes.
The Ned Kelly Bike Rack has the ability to fully support bikes without causing any frame or wheel damage. The frame and wheel can both be locked to avoid excessive pressure on the spokes.
It is the best way to maximize space, particularly in residential apartments, car parks, schools and universities- anywhere where space may be limited.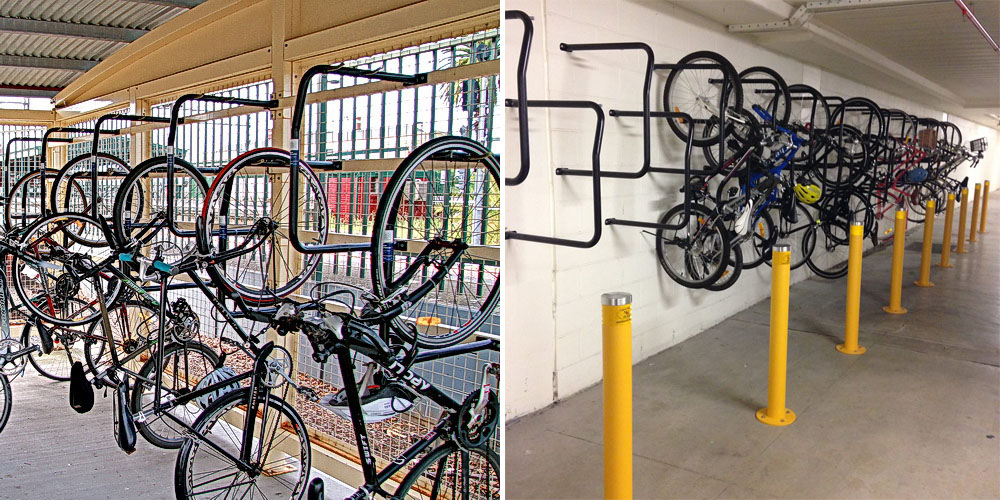 The racks can be installed at staggered heights and at 400mm apart. This prevents the handlebars from overlapping and increases the amount of bikes that can be fit into a space. They're constructed from mild steel and can be manufactured with either a powder coated black or stainless steel finish, measuring at 600mm X 700mm.
At NJM Group, we are committed to providing high quality solutions. It's important to us that we consistently meet our customer expectations and industry standards.The NK-2000 has been tested and is compliant with Australian Standards AS2890.3 for Bicycle Parking Facilities.
The racks can be installed on our locally manufactured bike shelters or crash rail containment barriers. They are also complimented by our fixed bollards for further protection against vehicles that may be nearby. Australian Bollards can offer a customized solution to suit your bike storage needs.
Using the Ned Kelly bike shelter, Parkiteer is a Public Transport Victoria Service that helps you get around with secure bicycle parking at Victorian train stations.
The Ned Kelly Bike Shelter is a secure and space-efficient bicycle rack guaranteed to provide protection and storage for cyclists. Built to fit up to 30 bikes, this shelter can be used for hospitals, universities, schools, train stations, and other various public locations.
For more information, click the links below: