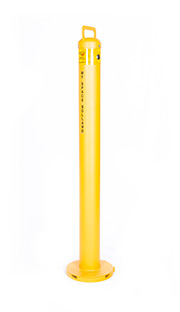 Product code : AB-NKB90-Y
Ned Kelly Bollards is the perfect car park protection solution for your business or personal vehicle space.
We understand that personalised reserved parking is an increasing expense and valuable asset that must be protected in today's busy world. At Australian Bollards we know first hand the frustration you experience when your space is occupied by an unwelcome visitor. Ned Kelly Bollards protects your investment and allows you peace of mind by eliminating the possibility of a complication with an uninvited guest.
Ned Kelly Bollards are conveniently key lockable, fully removable and designed with customer needs a priority with easy installation and user friendly operation.
Australian Bollards Ned Kelly Bollards are available in two finish options: aesthetically pleasing Stainless Steel and anti graffiti metallic Safety Yellow powder coat (for where high visibility is a requirement). Both options are fitted with a branded reflective tape.
Australian Bollards offer optional extras to compliment the purchase of your new Ned Kelly Bollards.
Additional mounting base plates that enables you to store your Ned Kelly Bollards securely when not in use.
In the case of multiple Ned Kelly Bollards users all your units can be keyed alike for ease of operation.
Ned Kelly Bollards are our flagship. Weighing only 11.9 kg, it is ideal for protecting boats, caravans and trailers along with deterring unwanted guests from designated parking spots.
Note: While installing Base Plate for Ned Kelly Bollards, please drill the hole deeper for easy operation of the locks.